Winyah Pharmacy, a Guardian Pharmacy Provider, hosted their 8th annual symposium at The Belmond Charleston Place in Charleston, SC on August 17, 2017.
Attendees were welcomed the night before with a delicious dinner at the Peninsula Grill while participating in a discussion on Treatment Advances in Parkinson's Disease.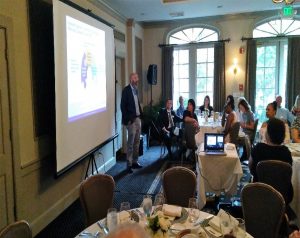 Dr. John C Morgan, MD a graduate of The Medical College of Georgia at Augusta University, gave a great presentation on the symptoms, diagnosis and treatment of Parkinson's Disease Psychosis.
There was a full slate of educational offerings on Thursday 8/17 that included topics such as Infection Control, Antibiotic stewardship and The Dementia / Alzheimer's Coalition.
Attendees were treated to the famous "Winyah Skit" and enjoyed having time away from their respective facilities for some education along with fun and fellowship.