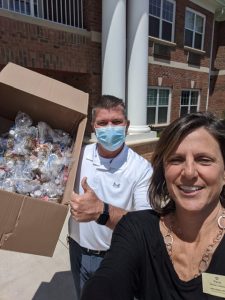 Jeanine Blakely, Rph is a graduate of The Medical University of South Carolina (Class of 1990). She is currently a consultant pharmacist for Guardian Pharmacy of the Piedmont in Charlotte, N.C. and Winyah Pharmacy in Georgetown, S.C. She just recently celebrated her 30-year anniversary with Winyah/Guardian!
Jeanine began her career as a pharmacy manager in Columbia, S.C. before opening and managing a pharmacy in Hendersonville, N.C. in 1996. She has been a full-time consultant pharmacist since 1997.
Some of her favorite things about being a consultant pharmacist include, establishing relationships with the nursing staff and building a solid partnership between the pharmacy and our customers. She also enjoys educating the staff on state and federal regulations. When Jeanine isn't traveling to facilities, she enjoys anything outdoors, particularly hiking, boating, working in the yard and working out. Jeanine's greatest joys are her son Garrett, age 18, and her daughter Cannon, age 15. A fun fact about Jeanine is that she has been the leading nurse in the Winyah Symposium comedy skit for the last 10 years! Her biggest pet peeve is people driving slowly in the left lane.